Im August ist die Baracke überwiegend geschlossen und wir sind nur eingeschränkt per Mail erreichbar. Im September sind wir wieder wie gewohnt für euch da. // Baracke will be mostly closed in August.

Sonntag, 01.08.: Anfänger*innenprobe Rhythms of Resistance
Start: ??

Am Sonntag findet in der Baracke Münster (Scharnhorststr. 106) die nächste Anfänger*innen Probe statt. Keine Vorkenntnisse nötig, alle sind willkommen! Die Teilnahme ist kostenlos.
Anmeldung bitte hier: ror-muenster at riseup punkt net
Bringt eure Ohrstöpsel mit 🙂
Freitag, 13.08.: Pien Kabache Antifakneipe
Start: 20:00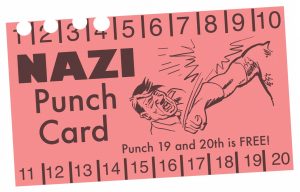 Nach einer gefühlten Ewigkeit können wir mit unserem Kneipenabend endlich wieder starten.
Diesmal werden wir einen kleinen Biergarten im Außenbereich machen, auch um in diesen Zeiten das Risiko so gering wie möglich zu halten. Also freut euch auf günstige kalte Getränke, nettes Barackenambiente und den typischen Punkrocksound.
Ihr müsst einen gültigen Corona-Negativtest (max. 48std alt), einen Impfnachweis oder einen Nachweis der Genesung mitbringen!
Die Veranstaltung findet nur im Außenbereich der Baracke statt – für die Toilettenbenutzung müsst ihr in der Baracke eine Maske tragen und auf den Mindestabstand untereinander achten!
Wir freuen uns auf euch… 
20 Uhr / Eintritt frei / Alle Gewinne werden für antifaschistische Zwecke gespendet!
Samstag, 21.08.: Punkbar Biergarten
Start: 18:00