Dienstag 23.10.: Anfänger*innen-Probe RoR
(english below)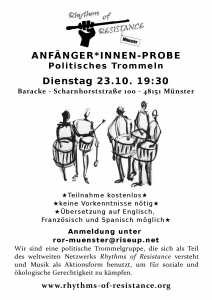 Am Dienstag, 23.10.2018 ab 19.30 findet in der Baracke Münster (Scharnhorststr. 100) die nächste Anfänger*innen Probe statt. Keine Vorkenntnisse nötig, alle sind willkommen! Die Teilnahme ist kostenlos und es ist Übersetzung mindestens auf Englisch und Französisch möglich.
Anmeldung bitte hier: ror-muenster at riseup punkt net
Bringt eure Ohrstöpsel mit 🙂
[EN] The next beginners rehearsal takes place on Tuesday October 23 2018 from 7.30pm at Baracke Münster (Scharnhorststr. 100). No prior knowledge needed, all welcome. Participation free of charge. The workshop will be held in German but translations are available at least to English and French.
sign up by contacting us: ror-muenster at riseup dot net
Bring your earplugs 🙂
Mittwoch 24.10.: Party – KuSA-Fachschaft – KUSA ONE
Houston, we have a Hansa!
…und ein gebrochenes Herz, da Prof. Dr. Hartmann aka DJ Hartmann sich aus unserer universitären Umlaufbahn entfernt. Aber in dieser Nacht – dem 24. Oktober 2018 – setzt er sich für uns noch einmal an die CD-Wechsler-Tables und rettet uns mit seinen intergalaktischen Beats aus dem Schwarzen Loch der Traurigkeit. Anschließend versorgt euch die studentische Besatzung mit UFOs (unfassbar fetzigen Ohrwürmern), die euch die Schwerkraft unter den Füßen wegziehen.
Zünden wir die Spaßraketen, für genügend Treibstoff ist gesorgt.
25.10.: Semester-Anfangs-Party
Ab ca. 22 Uhr, der Eintritt ist frei und veranstaltet wird der ganze Bums von den Fachschaften Soziologie und Politikwissenschaften. Kommt vorbei, nähere Infos folgen wohl in den nächsten Tagen auf Facebook. 😉
27.10.: Vortragsreihe geldfrei-er-leben – Teilen statt Tauschen